There are few things in life that get people more fired up than politics, religion, and the Kardashians. Music is one of them. We passionately defend our musical tastes because they're incredibly personal. Songs have the power to reawaken faded memories or elevate your soul until you feel the divine. When I was ten years old and first heard The Beatles, I felt closer to God.
My husband has a different taste in music. He doesn't like the Beatles. He thinks Tom Petty sounds like a warbling old man with a bad head cold. It's a wonder we're still together, but we make it work—by never listening to each other's music.
A few artists will forever remain deeply rooted in my soul. Maybe because I grew up listening to them, so they generate cherished memories of childhood.
Then there are other singers, popular artists considered legends, that I hate the sound of their voice so much, the second one of their songs comes on the radio, I scream "NOOOO!" and switch it off.  Here are some of my favorite and not-so favorite male artists.
My Favorite Male Singers
John Lennon 
I first fell in love with him back in 1980 while listening to the Help! album on our scratchy old turntable.  I would sit in my gram's rocking chair, holding the record sleeve in my little hands and gaze at his picture for hours. When he sang, "Help me if you can I'm feeling doooooown" I'd think, Oh, John, I will help you! Don't feel down! Never feel down! That soulful voice! That moppy hair! I love you! It will be all right! Just don't make an album with Yoko! I'm begging you, don't do it!
I recently downloaded "Tomorrow Never Knows" and listened to it about a dozen times in a row. Pure perfection. Back when John went solo, I loved him even more. Every song he cranked out was my new favorite. "Watching the Wheels", "Imagine", "Mind Games", I loved it all. He poured his entire soul into every note. He could be brutally raw and honest ("Mother", "Cold Turkey") and at the same time loving and sensitive ("Real Love", "Beautiful Boy", "Woman"). He was fearless.
Kurt Cobain 
Kurt was a singer you either loved or hated. My mother hated his voice*. I remember cranking up one of the more intense songs, "Stay Away" and my mom poking her head into my room.
"Turn that down! What in the world are you listening to?! You can't even understand a word he's saying! It doesn't make any sense! He's just screaming!"
"But Mom!" I protested. "He's a genius!"
"WHAT? I CAN'T HEAR YOU! MY EARS ARE BLEEDING!"
With every wretched note he was laying it all out there–his seemingly tortured existence, his sensitivity to the unfairness of life, his open, grueling pain–things a lot of us could relate to in those early grunge days (I know I did, I wore fuzzy sweaters and didn't wash my hair for days to prove my angst). Kurt's voice was very melodic and sweet at times, and vocal-chord-shredding powerful when it needed to be.  His voice blew my socks off. Hemp socks, natch.
Dave Grohl
Once upon a time, he was the turtlenecked drummer lurking in Cobain's shadow.  Over the years he transformed into a guitar-shredding, lyric-raging, righteous dude that once finished out a concert with a freshly broken leg while sitting in a chair.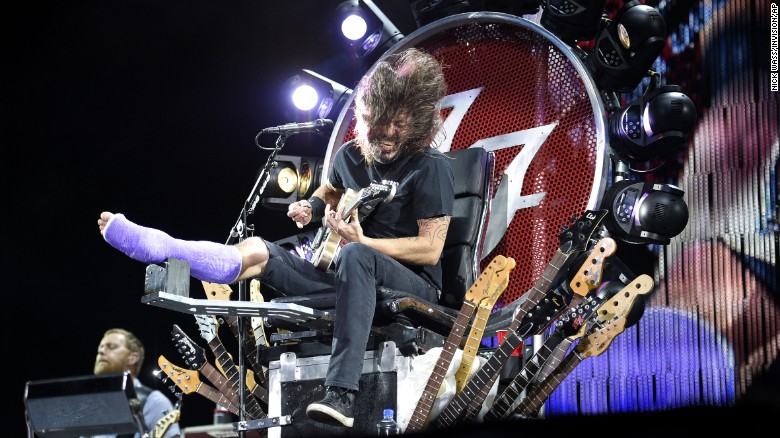 Most days I'm in a Foo Fighters type of mood. Something about cranking "These Days", "Walk" or "Rope" on your daily commute makes those soul-sucking days at the office more bearable. 
My husband and I both love his raging, head-banging lyrics and music. (The only artist besides the Beastie Boys and Childish Gambino we completely agree on.) 
Lenny Kravitz
Lenny came into my life at a magical, innocent time.
I was in college out west, busy doing things like lying on the grass, chugging mocha lattes, and watching stoners play Hacky Sack. Life was free and easy and reeked of patchouli. My roommates and I would listen to his music and weave daisies in each others' hair.  I listened to his Mama Said album from start to finish nearly every day. He's had a few hits and misses over the years, but nothing compares to songs like "Are You Gonna Go My Way?" and "It Ain't Over Till It's Over". In TV interviews he always strikes me as a loving, positive, extremely intelligent man. And he can rock the shit out of a song. I want to marry him and have his baby. Let Love Rule indeed.
Tom Petty
Oh, Tommy. Wow. Legend. Aside from his incredible knack for vivid concise lyrics,
The red-winged hawk is circling
the black top stretches out for days
…and ability to cut straight to the bone with pure emotion,
And for one desperate moment
there
he crept back in her memory
God it's so painful when something that's so close
is still so far out of reach
— this man has A Voice. Some may even say a horrible voice (my husband). I will admit he's unique. When I hear him sing, I feel like an old friend has sat down with me to share a beer and tell me his troubles. And he's cool. Beyond cool. I grew up listening to Tom Petty and the Heartbreakers. I've loved every single album with them and every solo album. He can power through anthem hits like "Breakdown" and "American Girl", but I truly love to hear his voice on more sweet, melancholy songs like "Wildflowers"
or "Woman In Love (It's Not Me)". He breaks my heart. And I love him for it.
(Honorable Mentions: Robert Plant, Eddie Vedder, Anthony Kiedis, Chris Cornell…I could write entire posts devoted to each one of these guys…)
Male Singers I Can't Bear to Listen to for Even One Second:
(Note: I purposefully chose artists that have been around awhile. If I had to pick from today's artists, we'd be here all day.)
Elton John  "I guess that's why they call it the blues…"And I guess that's why your songs make me want to plunge my hand into a pirannha-infested aquarium and then cram the fish into my ears so they can devour any trace of any of your songs.
Bob Dylan  "…la-lady lay…lay across my big brass bed…" Whoa, whoa, whoa. Hold up. I can't take this. Stop, Bob! Stop with the brass beds and the laying and the singing before I start to weep. I know you're a legend. I can't take your voice. I'm sorry, man. It's true. Don't hate me.
Billy Joel "…bottle of red…bottle of white…"  Hey, Billy? Can you give me a bottle of each so I can smash them both over my head and end this misery?
Bruce Springsteen "born…in the USA..I was born…in the USA…I was…" I know everyone loves you, Bruce. I know. I'm sure you're a swell guy. But you sound like a dying grizzly bear with a two-pack-a-day habit. No doubt I'm the only soul in the world that feels this way.
Which artists do you love? Which ones sound like nails on a chalkboard to you?
C'mon, you can tell me, I won't judge. After all, I like Tom Petty and Kurt Cobain, remember? Oh, you hate them? Fine! I'm not mad, I swear. (But we can never be friends now.)
Images: dailymail.co.uk,  biography.com, rollingstone
________________________________________________________________
P.S. This post was rescued from my "Where Posts Go to Die" draft folder and was written in 2012. Tom Petty's death? I'm still not over it yet.
*To give my mom credit, she loves good music. Some of the groups she used to blast from her stereo include The Doors, The Beatles, Fleetwood Mac, Queen, Kiss, etc…